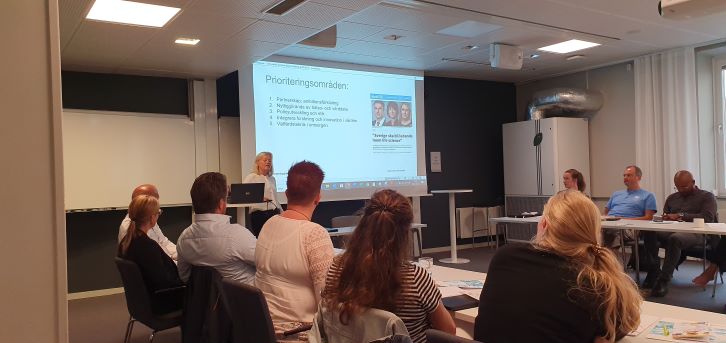 On the 21st of August, the fifth workshop for the project "The most Sustainable Healthcare in the World 2030" was held in Stockholm. Within this project, NCSH is creating a guideline for Life Science companies who wants to incorporate sustainability in their operations. The aim of this workshop was to discuss the first draft of this guideline and get input for how to further develop it. The workshop was organised in cooperation with partners Medeon, Medicon Village, Swecare and Sahlgrenska Science Park.
The day started with an introduction to sustainable healthcare and NCSH by Daniel Eriksson, founder of NCSH. After the introduction, we listened to Jenni Nordborg who is the national Life Science coordinator of Sweden. Jenni presented how she works with sustainability for the Life Science sector.
After this we listened to Susanne Adolfsson, who is product manager at the company Finess Hygiene. Susanne presented the sustainable products Finess Hygiene provides to the healthcare sector, and a discussion arose on how procurement can contribute to sustainability in the sector. After a short coffee break it was time for Martin Almgren from AddLife, who presented their organisation and vision for sustainability in the healthcare sector.
Lastly Marie Pettersson from NCSH gave a presentation of the guideline and how it has been formatted so far. Following this, participants were divided into groups to further discuss the draft of the guideline. The discussion finally continued in the whole group, and input was provided.
The results from the workshop will be presented in the final report and in the finalised guideline! So stay tuned for future updates from the project.
We thank everyone who participated, and especially all the speakers for interesting presentations!