September 8 - Technical University of Denmark & ONLINE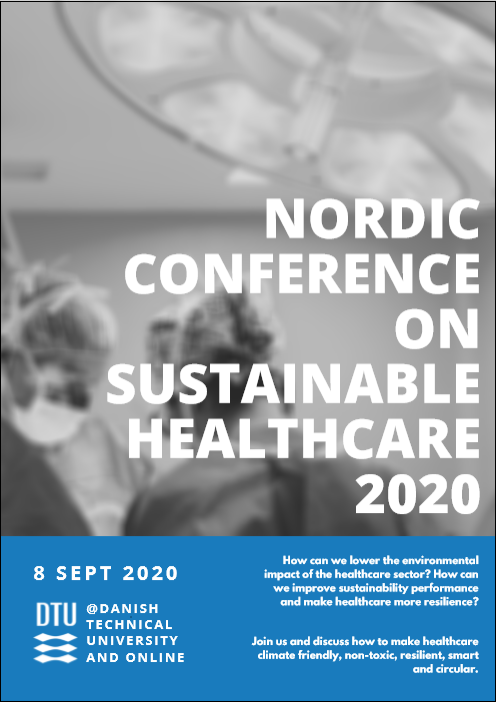 For the 4th year in a row the Nordic Conference on Sustainable Healthcare is arranged by NCSH, Upgraded and DTU, in collaboration with the Swedish Energy Agency and Nordic Innovation.
Join us at DTU or online for a one day conference and meet professionals from all over the world to discuss the latest developments on environmental sustainability in healthcare. We welcome you to participate, exhibit, speak, sponsor, or partner up with us! The program has now started to fill with speakers & exhibitors.
The conference will focus on:
Circular Healthcare
Non-Toxic Healthcare
Climate Friendly Healthcare
Resilient Healthcare
Smart Healthcare
Nordic Excellence in Sustainable Healthcare
Click on the poster to the right to see the full program!
Visit the Official Conference Website to Register
---
---
NCSH

Felicia Matz Wennerhed

DTU

Tajanna Nielsen

Upgraded

Inga Chernova

---
Past Nordic Conferences on Sustainable Healthcare:
The Nordic Conference on Sustainable Healthcare 2019
The Nordic Conference on Sustainable Healthcare was held as a part of EHMA:s annual conference and took place in Espoo Finland on June 17-19. NCSH hosted one session on June 17 and one session on June 18. On June 19 NCSH announced the winners of 2019 Nordic Sustainable Healthcare awards.
The Nordic Conference on Sustainable Healthcare 2018
The conference was held in collaboration with Aktuell Hållbarhet and joined together speakers and participants from over 10 countries with interest in creating a more sustainable healthcare sector. This years focus was on areas such as tools for sustainable construction and maintenance of healthcare buildings, international knowledge from sustainable health and care systems, procurement as a sustainability tool and antibiotic resistance.
The Nordic Conference on Sustainable Healthcare 2017
In collaboration with Aktuell Hållbarhet, Dagens Medicin and Bonnier Sustainability Media, Nordic Center for Sustainable Healthcare organized a one day conference with speakers from all over Europe to focus on the latest developments in areas such as: sustainability priorities at major Nordic hospitals, state of the art Nordic projects, as well as new and innovative solutions on the market in everything from energy efficiency to pharmaceuticals.