The visionary Swedish pharma company FrostPharma is now a part of NCSH!
We are happy to announce the entry of FrostPharma to our collaborative journey towards more sustainable healthcare systems worldwide. The company delivers several innovative products, and you can read about one of these (WoodSafe®) below:
"FrostPharma AB is a Sweden-based specialty pharma company founded in 2016. The Company focuses on commercializing niche pharmaceuticals and healthcare consumables throughout the Nordics and Baltics. Sustainability is a major part of our business. We carry a portfolio of 8 bioplastic disposable items and unique risk waste containers in 100% biocomposite - WoodSafe®.
About WoodSafe®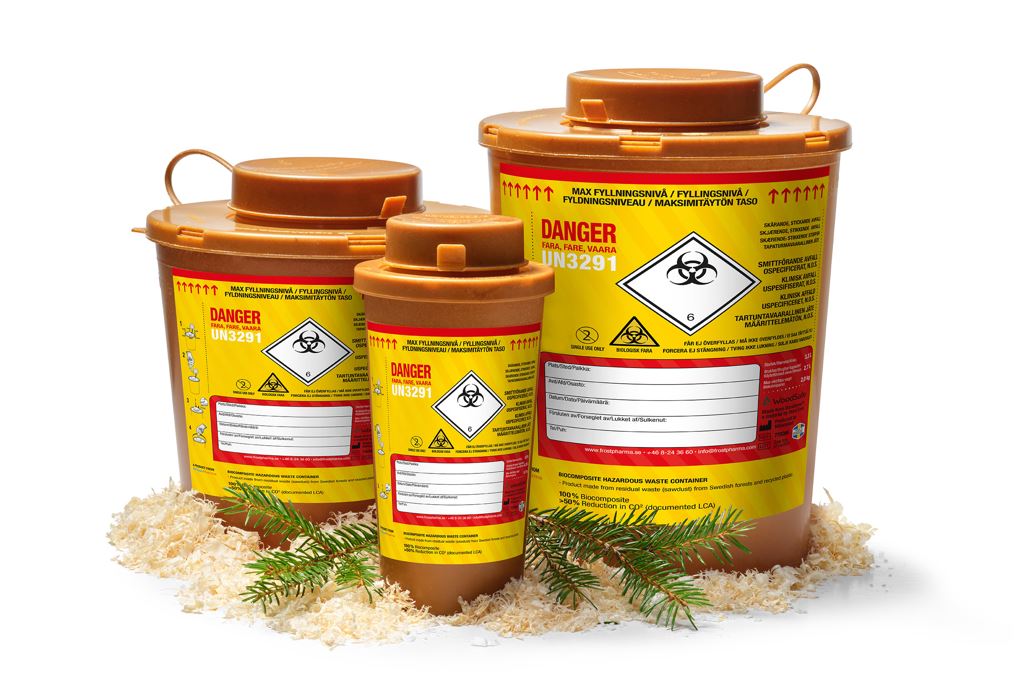 WoodSafe® is a new innovative series of hazardous waste containers made of residuals (sawdust) from Swedish forests and recycled plastics that halve the C02 emissions.
Today, hazardous waste containers in different sizes are a big part of the plastic consumption within healthcare. Aside from examination gloves and disposable aprons, hazardous waste containers are the biggest product in number of tons per year that go to incineration. According to LCA analyses, we could more than halve the climate footprint by just replacing today's fossil-based plastic containers to containers made in biocomposite.
WoodSafe® is based on biocomposite produced by Stora Enso. The material is optimized to replace a wide range of polymers and it can also achieve a very high tensile strength. The benefits of wood fiber are its strength, natural look, its renewable raw material, and the low CO2 footprint. Stora Enso's biocomposite is uniquely made to combine these advantages. WoodSafe® hazardous waste containers have optimized the mix of wood fibers and polymers with the purpose to meet the requirements of waste containers, according to UN tests, and at the same time minimize the climate impact. Woodsafe® is a part of the pharmaceutical company FrostPharma holds the patent portfolio regarding these hazardous waste containers."
Learn more by visiting:
---
Not yet a member in NCSH? Simply click the button to join: