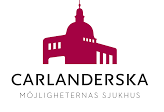 We are happy to announce that the swedish Carlanderska hospital has joined Nordic Center for Sustainable Healthcare!
We let them introduce themselves:
Carlanderska hospital opened in the spring of 1927. Much has changed since then, but the main idea is the same: to offer first-class healthcare with extra care in an environment that is cozier and more home-like than the rest of the healthcare system.
At Carlanderska, we are constantly working on improving patient safety, quality development and environmental issues. This includes, among other things, routines, continuous improvement work and an approach where no category of staff is more important than anyone else. We have many specialist doctors attached to us with solid experience and with a width that allows us to maintain our ambition for the complete hospital with well-functioning healthcare under one roof.
Our work within Carlanderska's activities shall contribute to sustainable development, where management of resources and circular adaptation is indicative. We undertake to comply with laws and other applicable requirements and the life cycle perspective is always applied as far as possible. Carlanderska is quality and environmentally certified according to ISO standards 9001 and 14001. This is the basis of our management system and ensures that we actively work with the constant development of patient safety and meet the applicable legal requirements.
Through continuous improvements, we prevent and mitigate the negative environmental impact that our business contributes to. We shall be pioneers of the environmental work.
Welcome to the network!