As part of the project The Future of Healthcare: Sustainable and Smart Today, financed by the Swedish Energy Agency and Nordic Innovation, we are arranging a conference in Utrecht, the Netherlands in April 2020.
The Nordics and the Netherlands are both leading when it comes to sustainability and smart solutions in the healthcare sector. Through the project The Future of Healthcare: Sustainable and Smart today, we want to create a space for discussion, knowledge exchange and sharing of best practices between these two regions. We aim to foster international collaboration for a more sustainable and smart healthcare. We invite Nordic companies, regions, hospitals, and other healthcare organisations to join us for this two-day conference in Utrecht, Netherlands!
Open the pdf to the right to see the full programme.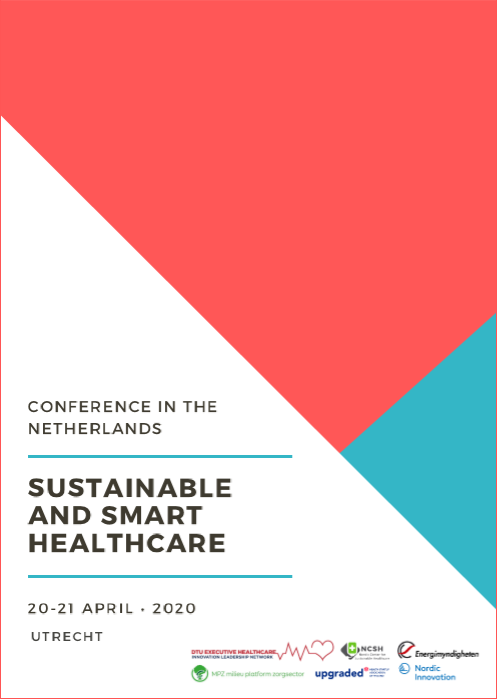 April 20 - Study visit
The day before the main conference, we will arrange a study visit to Amsterdam Medical Center (AMC) to see sustainable solutions in place.
April 21 - Main conference
The conference is arranged in collaboration with the Dutch NGO Milieu Platform Zorgsector (MPZ) and will include up to 100 environmental coordinators and managers from Dutch hospitals and other healthcare organisations. There will be two parallel sessions; Sustainable Healthcare and Smart Healthcare. At the end of the day, we will focus the discussion on possibilities for collaboration between the Netherlands and the Nordics to reduce the climate impact of the healthcare sector.
Interested in participating? Are you from a Nordic hospital, other healthcare organisation or company and would like to speak during the conference? Speaker slots are available, for more information please contact:
Felicia Matz Wennerhed
+46 (0) 822 73 97
For updates about the conference, keep an eye on the calendar >>