Our member organization ECHAlliance have been adapting to the situation in the last couple of weeks, and now they are arranging a new "Member to Member" collaboration:
The ECHAlliance have been adapting to the COVID-19 emergency rapidly over the last month alongside our members and with our International Network of Digital Health Ecosystems.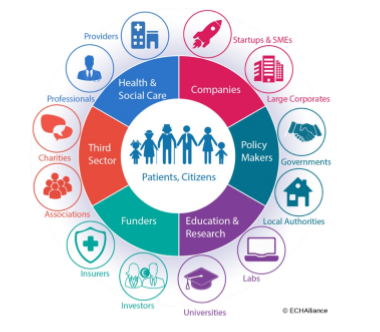 Member to Member Collaboration
As a member organisation we have responded directly to our members immediately with a series of weekly member to member emails, which feature both need and solutions, funding opportunities and best practice around COVID-19. We publish these weekly to our 700+ members and via our social media to our database of 16500 healthcare professionals.
These have seen a tremendous response from members with a large collection of both opportunities and collaborative collaboration offer opportunities in the three weeks we have been doing this. You can find 2 examples of these here:
https://echalliance.com/echalliance-shares-direct-member-to-member-offers-targeting-the-covid-19-issue-1/
https://echalliance.com/echalliance-shares-direct-member-to-member-offers-targeting-the-covid-19-edition-2-2/
Pop- Up Ecosystems
In addition our ecosystems have also been targeted with a series of bespoke Pop-Up ecosystems starting on March 31st, which feature are ecosystems and our members sharing need and opportunity and best practice again in a virtual pop-up ecosystem. We will be doing these continuously as covid-19 develop and adapt them accordingly to suit both our members and our partners and ecosystems.
Our first Pop-Up ecosystem featured ecosystems from Slovenia, Spain, Wales, Estonia and Scotland, talking about how they approached the COVID-19 response so far as well as hearing from experts around procurement during the pandemic. In addition there was input and exchange from our other ecosystems such as Sri Lanka and Melbourne, Australia. We will be continuing these and featuring more of our ecosystems, both our currently ecosystems as well as our new and emerging ecosystems that are opening globally over the next six to 12-months.
For more information about this please contact
This article is written by or on behalf of a member of the network and any statements, claims and opinions are theirs and not necessarily NCSH's.