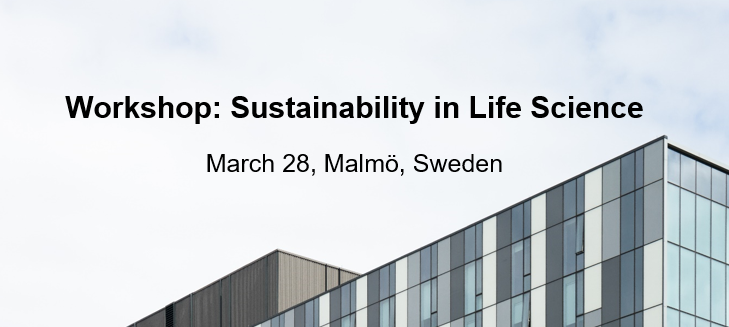 Workshop with focus on sustainability in Medtech and Life Science
This event will be held in English.
Together with project partners Medeon, Medicon Village, Swecare and Sahlgrenska Science Park, NCSH has received Vinnova funding for a pre-study to be the basis for creating a vision to achieve the most sustainable healthcare in the world by 2030 and establish an arena for innovation, collaboration and communication of Swedish sustainable healthcare.
To increase the knowledge base and identify best practice solutions within medtech and life science, workshops will be held in four different cities in Sweden. The material collected through the workshops will be used to develop both a sustainability guideline for startups life sciences and a vision for sustainable healthcare. During the workshops we will both listen to presentations and hold a workshop discussing questions such as how companies within this field address sustainability today as well as what challenges and opportunities they are facing.
A similar workshop will be held in Gothenburg April 11th and Umeå May 28.
---
Agenda
9.00 Coffee and registration
9.30 Introduction
Daniel Eriksson, Founder and CEO, Nordic Center for Sustainable Healthcare (NCSH)
Company presentations
Ralf Schmitt, Corporate Head of Sustainability, Getinge: Ideas that matter – Getinge`s way into Sustainability
Dag Larsson, Senior Policy Advisor, The research-based pharmaceutical industry (LIF)
10.40 Networking and coffee break
11.00 Company presentations
Peter Kelly, International Director, Pharmafilter
Louise Strand, Purchasing Director, Region Skåne: Introducing Sustainability in the procurement process
SME challenges in sustainable healthcare. Short presentations of:
BTB Emulsions
MedArca
Watersprint
CLS
12.00 Workshop
How can companies in Life Science address sustainability and what are the opportunities for the future?
12.45 Summing up and conclusions
Daniel Eriksson, CEO, Nordic Center for Sustainable Healthcare (NCSH)
13.00 Close up meeting and lunch
---
More information
What: Workshop in collaboration with Medicon Village and Medeon
Where: Hotel Quality View, Hyllie stationsväg 29, 215 32 Malmö
When: 09.00 March 28 2019
Fee: Free of charge. No-show will be invoiced 250 SEK + VAT
Registration: (name, organisation, contact information and allergies)