Date: 2021-05-04
Time: 1pm - 4.30pm
Where: Online (zoom)
Contact:
---
Healthcare as a leverage for implementing sustainable healthcare in developing countries
Providing healthcare is dependent on clean water, electricity, heating/cooling, wastewater handling, communication etc. The infrastructure and services are also sorely needed by surrounding communities. Lacking access to clean water, electricity etc. are among barriers keeping people in poverty back as well for small businesses to grow. Effectively making services available to the local community can both create substantial circularity and sustainability advantages and opportunities for people, such as a hub for businesses to develop.
If healthcare is to become a driver for community development and environment and climate change mitigation, there is a need to apply a system solution approach in health care infrastructure. Broad collaboration between stakeholders from the private sector, international organisations, civil society, and community and partnerships are as central.
The workshop provides an arena for dialogue on how Healthcare can become a frontrunner for implementing sustainable infrastructure in developing regions (in low- and mid-income countries.) around the world. The aim is to get the discussion started on how an integrated approach to health care investment can be implemented and to connect key stakeholders for future collaboration.
We will discuss implementation, procurement, financing and technology solutions for a system solution approach.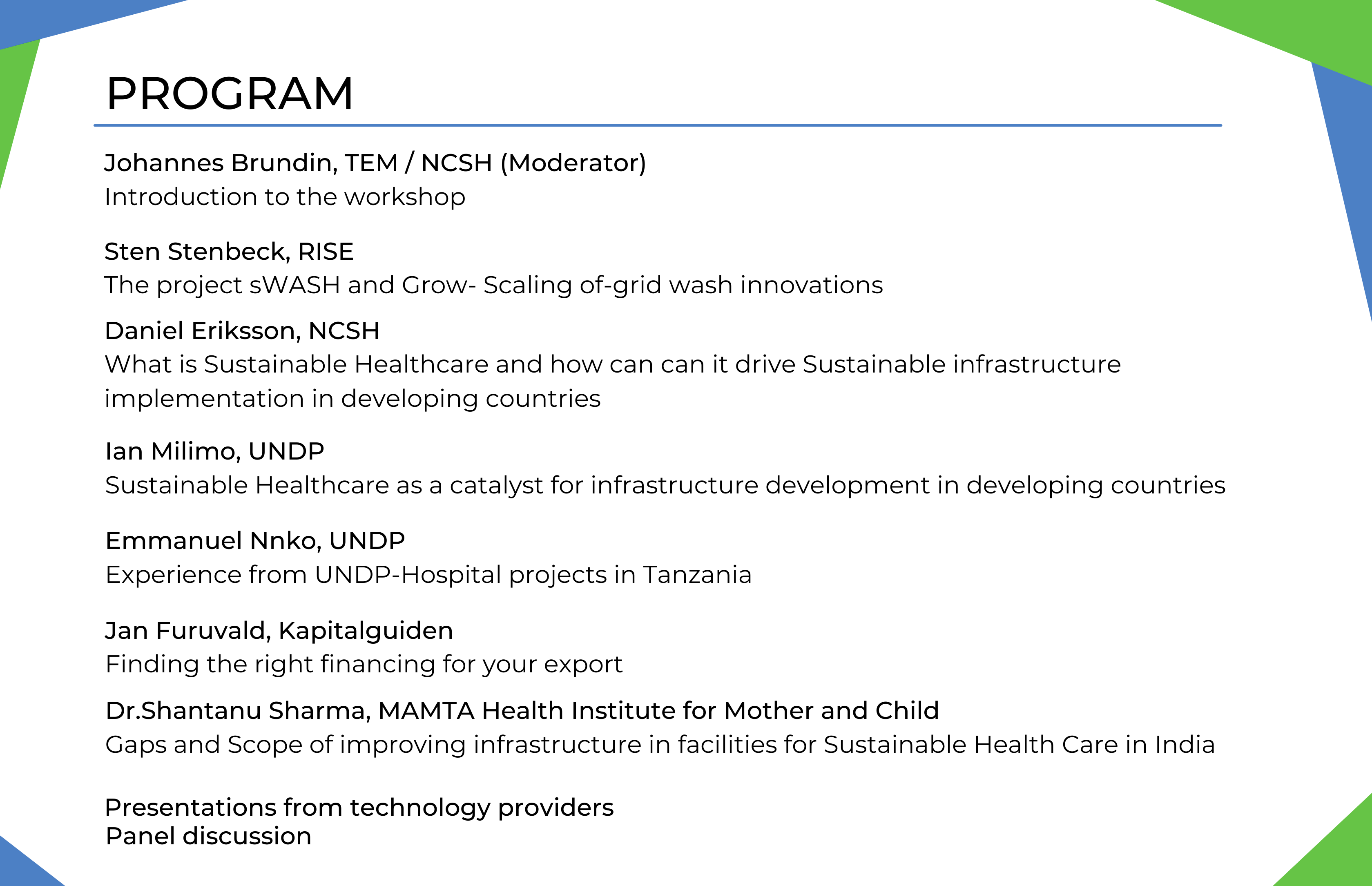 This event is part of the sWASH&grow project, coordinated by RISE and co-financed by Vinnova and the 28 project partners. The sWASH & grow project aims to improve the conditions for innovators to be able to meet relief organizations' demands. This will enable sustainable and circular innovations in the WASH sector to reach vulnerable populations in humanitarian crises and areas without access to critical utilities and services. The project will, through testbeds in cooperation with buyers and users, test innovative sustainable solutions and from this develop tools for development, scaling and export.
Read more about the project here