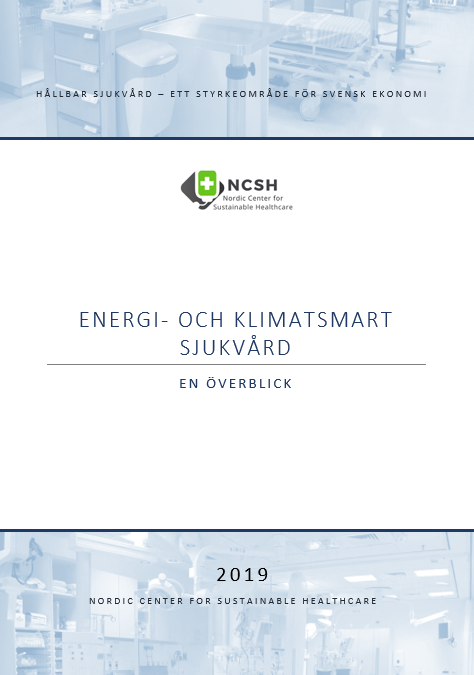 As part of the project Platform for Internationalisation - Energy- and Climate Smart Healthcare, financed by the Swedish Energy Agency, NCSH has produced a report focused on energy- and climate smart healthcare solutions in Sweden and all around the world.
The report summarises and gives an overview of studies that have been conducted to show the environmental impact of the healthcare sector globally, as well as in Sweden and in the Nordics. It gives a comprehensive summary of existing international initiatives to reduce the environmental impact of the healthcare sector, and the international policy goals within the field. An overview is also given of de goals and commitments of Swedish Regions to improve their environmental efforts within healthcare, as well as the energy use of the Region´s healthcare facilities.

Studies show that healthcare globally emits around 4.4% of the total emission of CO2 in the world. The environmental impact of healthcare varies in different countries, but tends to be lower in developing countries. Sweden is in the forefront when it comes to reducing environmental impact of the healthcare sector and has a generally low energy use in healthcare facilities. Considering this, there is a unique opportunity for Sweden to contribute to a lower environmental impact of healthcare globally, get more innovations out on the global market, as well as increase employment and export income from sustainable healthcare solutions. The purpose of this report is to facilitate and increase an exchange of knowledge between Swedish and international stakeholders working with energy- and climate smart healthcare.
The report is written in Swedish. If you would like to read it in English, please contact us.
To read the full report, just click here or on the picture to the right.
For more information about the report, please contact:
Daniel Eriksson