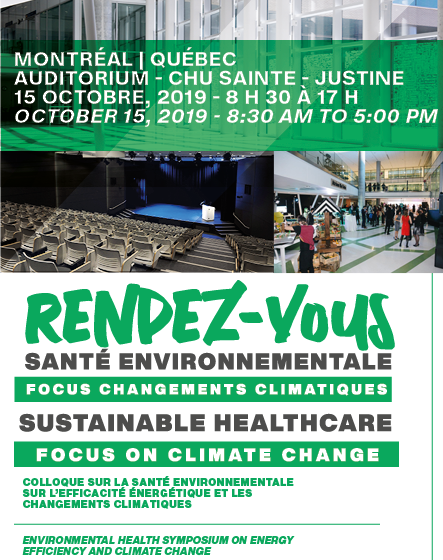 The delegation to the conference in Montreal, Canada the 15-16 of October is coming up, and for those who would like to join it's time to register. The Conference is arranged by NCSH in collaboration with our partner and member Synergie Santé Environment (SSE) and has a two day programme. This is an excellent opportunity for participants to meet and network with stakeholders in the Canadian healthcare sector, that are responsible for environmental health and sustainable development in their institution. So far more than 120 people from Canada, France, USA, the Nordic region and more have signed up for the conference.
Day one of the Conference is the main day with presentations, panel discussions and networking opportunities. It's possible to have an exhibition booth on sight to showcase your products or services.
Day two will be a study visit at Montreal University hospital, an opportunity to learn more about how Candian hospitals function.


Free event for health professionals and environmental specialists.
Simultaneous interpretation services are available on site.
Registration required.
Targeted booths / Exihibition on the site.
Eco-friendly event.
Full program and registration >>>
If you have any questions or want more information regarding the delegation please contact:
Daniel Eriksson

+46 (0)707 94 42 13
Johannes Brundin

+46 (0)730 67 74 31
Felicia Matz Wennerhed

+46 (0)737 52 05 03