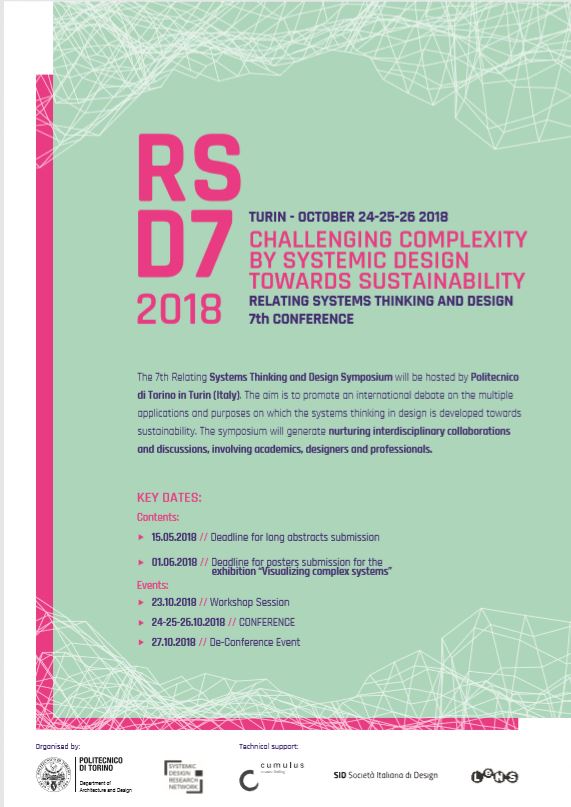 NCSH member and partner Politecnico di Torino hosting a conference this fall and are looking for great presentations in Sustainable Healthcare:
Politecnico di Torino and the Systemic Design Research Network are pleased to invite you to the upcoming 7th Relating Systems Thinking and Design Symposium (www.rsd7.org) that will be held in Turin on October 24-26, 2018.
This year's conference organised by the Politecnico di Torino is focused on Challenging Complexity by Systemic Design towards Sustainability with the aim to promote an international and interdisciplinary debate on how Systemic Design-related disciplines can help our societies, economies and industrial systems to face the challenge of sustainability in complex environments.
There will be 6 tracks addressing different issues; one of those will specially focus on "Social care and health systems for sustainable living", boosting the dialogue on sustainable innovations for our health systems.
Academics, professionals and industrial designers are welcomed to provide their view and take part in the conference.
Two types of contributions can be submitted:
1. Long abstracts. The selection process will be done on long abstracts (max. 1000 words) to be submitted by 15 May. We will invite authors to submit the full paper soon after the RSD7 Symposium.s.
2. Visualisation works. A special call invites students, designers and academics to submit visualisation works that will be part of the exhibition "Visualising complex systems", concerning how design can help visualizing, explaining and navigating complexity. In this case, contributors should submit a short abstract (max. 350 words) together with 3-5 high-resolution images and any correlated links/website in case of interactive visualisation by 1 June.
You can find more information about deadlines and submissions here: http://www.rsd7.org/call-for-contributions/
We look forward to your valuable contributions to the RSD7 conference!
RSD7 Staff