Our member Avidicare has written a new blogpost about their ventilation system Opragon!
Read the full blogpost here, or below.
Opragon has saved healthcare more than 10 million KWH since first installation!
We only have one planet, and it should last a long time for future generations. Everyone can do something to help reduce energy consumption and we can help you along the way towards a more sustainable hospital.
A well-documented HVAC energy saving comes from the fact that Opragon uses less energy than standard European laminar airflow (LAF) systems. It offers 30% lower cost of ownership* compared to these systems - while being superior also regarding comfort and the size of the working space!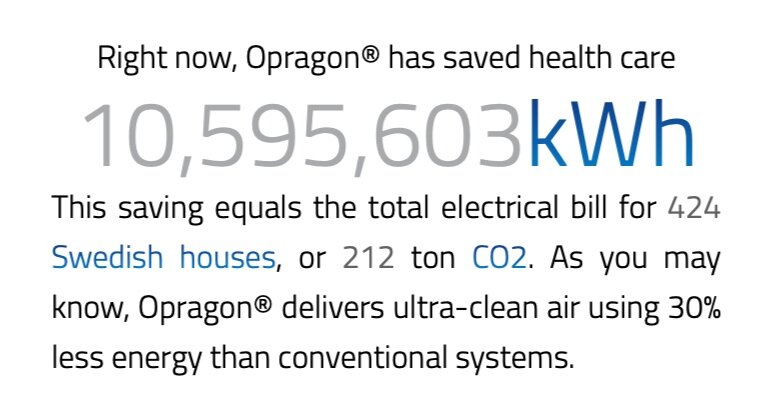 Still, the biggest energy saving comes from those infections that never occur. While it is much harder to calculate that saving, we know it matters in so many ways. Besides the pain and discomfort for the patient, surgical site infections extend hospital stay with many days, which obviously means lots of energy use that could have been avoided.
As you can see, Opragon has saved healthcare more than 10 Million kWh since the first installation. This saving is equal to 212 tons of CO2!
By creating ultra-clean air in the whole operating room, and using less energy than other ultra-clean ventilation alternatives, Avidicare helps healthcare work Towards Zero Infections.
*article in the Journal of Hospital Infection (Oct 2017).
This article is written by or on behalf of a member of the network and any statements, claims and opinions are theirs and not necessarily NCSH's.