Our member ClimaCheck has written an article about measuring and performance analysis. Read it below!
The importance of an optimised and reliable cooling-system.
An energy efficient system is almost always a reliable and HVACR-systems (heating, ventilation, air conditioning and refrigeration) is no exception. This is something we have seen at many hospitals around the world as focus on the performance of their HVACR-systems becomes a part of their sustainability work.
By analysing the performance of a HVACR-system, it is possible to predict failures, control strategies are improved, and problems can be fixed long before they cause a failure. Refrigerant leaks will be noticed when they start not during scheduled visit (that can be months away) or when the system fails. With the right Information optimisation becomes cost effective and lead to a more energy efficient operation. Our experience is that an optimised HVACR-system consumes 10-30% less energy and have a reduced failure rate as well as a lower lifetime cost.
"Measure is to know"
The world of IoT is fast moving and there is no reason to overlook the HVACR-system. In many cases sensor data might already be collected to show temperature, pressure and in some cases even COP. However, this can bring a false security as there is a big difference between data and information.
ClimaCheck have developed a unique method for performance analysis of HVACR-systems. By analysing the HVACR-systems (refrigerant process) with ClimaCheck it is possible to get detailed performance information (System Efficiency Index, SEI) on the whole system and on individual key components.
How?
The first step is to start collecting data, which is done in many cases. The second is to analyse this data to get a good understanding of the system performance and how different components perform. The third is to act on the information and do corrective/predictive measures to improve the operation.
One of the unique parts of the ClimaCheck analysis is System efficiency index (SEI), it complements "old" information like COP (that changes with conditions) with details that indicates how efficient the system is at each operating condition, and where there is a potential to save energy. SEI high-light deviations in energy consumption and performance changes in the whole systems as well as in separate components.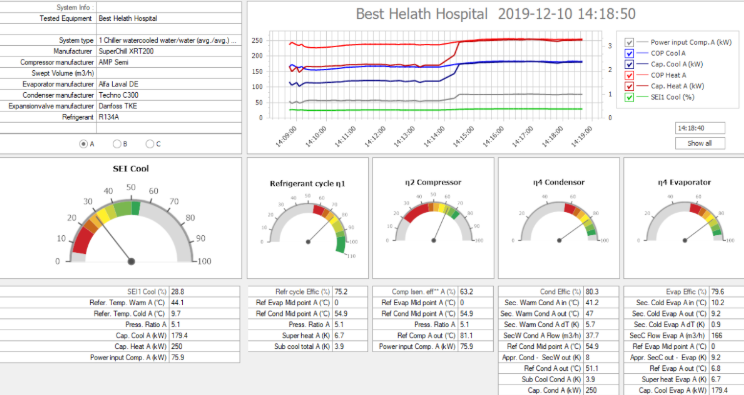 By using the information from the ClimaCheck analysis to work with optimisation, many hospitals have a more reliable and cost efficient HVACR-system. With more complex systems with heat recovery and/or ground storage the importance of good information on operation and performance increase. We can clearly see that an optimised (energy efficient) and well-tuned HVACR-systems improve redundancy and lower the total lifetime cost.
What can be done?
A good example is Banner Health in Arizona and the ClimaCheck the partner ETC group that recently was rewarded for "2019 Efficiency Works Largest Energy Saver: Single Project Award". The result in this project shows the possibilities when working companywide with energy efficiency.
By integrating the ClimaCheck analyse in the existing BMS system ETC and Banner get 100% control over the HVACR-systems performance. Making it possible to work with optimisation and predictive maintenance to prevent performance drift and avoid failures.
In the first phase (10 out of 25 buildings) they are saving 3.8m $ and have reduce the energy consumption with 14 million kWh.
More information about:
To get more information about ClimaCheck and what we can do for your organisation; email Niklas
More information about the Banner project.
Read more about ETC and the award.
This article is written by or on behalf of a member of the network and any statements, claims and opinions are theirs and not necessarily NCSH's.