Floow2, world leader in facilitating the sharing economy for businesses and (healthcare) organizations, launches a SharingScan to make it possible for organizations to calculate their financial and sustainable earnings of asset sharing upfront.
Bringing an innovative and new business model, like asset sharing, to the marktet is always a challenge. Especially when it's a business model that requires a radical mind-, behavioural and cultural shift within people and organizations. Since the launch of FLOOW2 Healthcare in 2012, they have been telling and convincing decision makers, sustainability managers and purchasing managers within organizations that FLOOW2, or asset sharing, brings them financial, social and sustainable benefits. The first question which they got back each time, was: "How much money does it save me and do you have examples and results of other businesses?" Which is understandable of course, because it requires quite a lot of guts, trust and leadership to transform and change your daily way of doing businesses into a future proof organization, while not knowing the outcome in advance.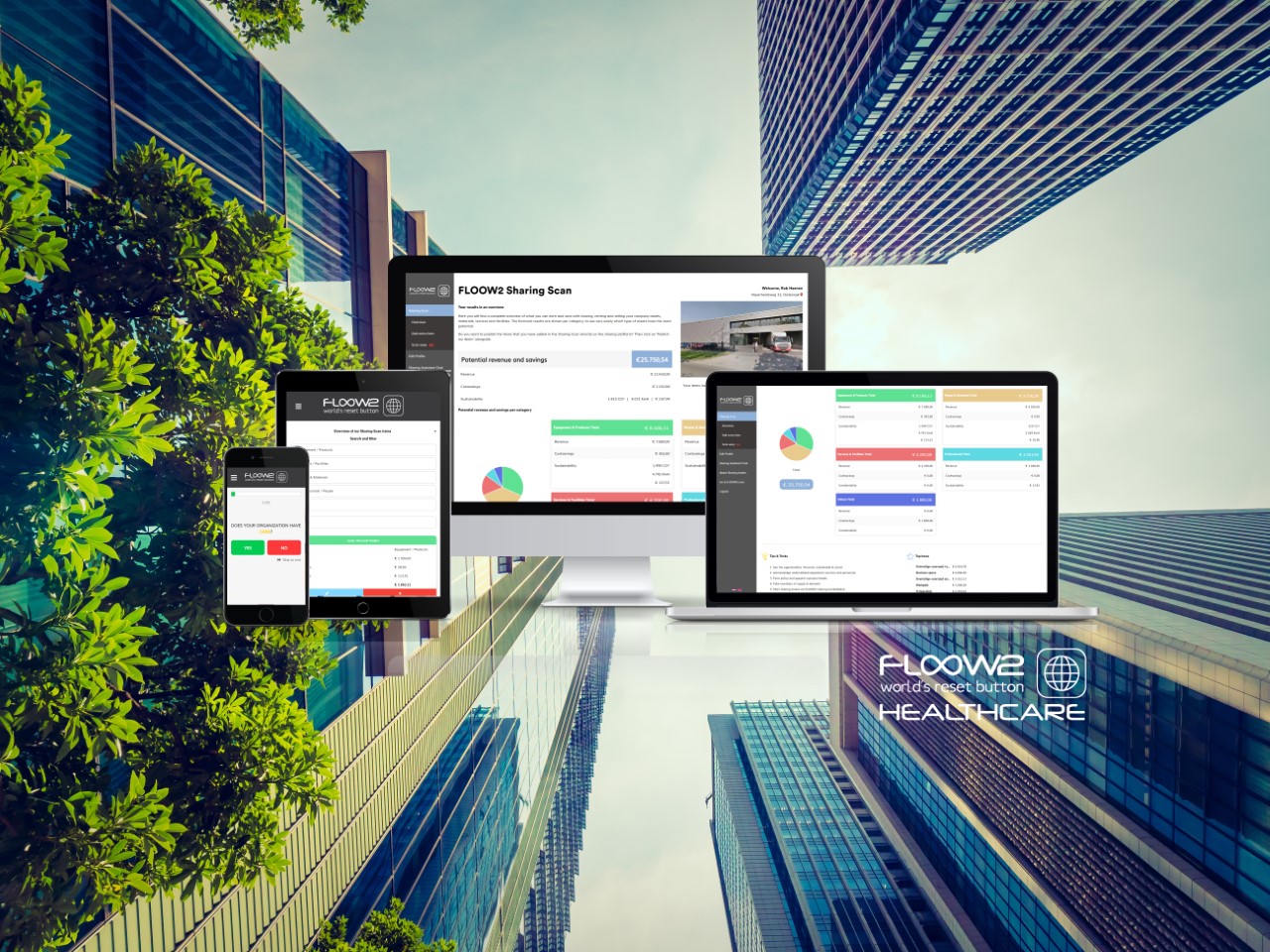 Missionary work
So, you might understand that FLOOW2 did quite some missionary work during the past years, because it's hard to proog the benefits of a concept which depends on the action of the organizations themselves (starting to share assets), before you can show results. In addition, not much research had been done into the B2B sharing economy. So, for FLOOW2 as pioneers the task was to invent the proverbial wheel themselves.
Proof of concept
By the end of 2018 they did manage to quantify the financial results of the early adopters, thanks to an increase in users, transactions and internal sharing platforms. They analyzed the data of all active accounts, which showed that, for their company or community, active users produced and average financial value of €2,235 per user. For FLOOW2 Healthcare (hospitals and care organizations) this average value per active user amounted to €3,052.
Insights in financial and sustainable potential upfront
From toady they're also able to show businesses and (healthcare) organizations upfront what they can earn or save, on a financial and a sustainable level, with sharing assets, materials, services, facilities and personnel. They developed the SharingScan that gives companies insight in the possibilities of asset sharing, which assets could generate the best ROI, and in the potential financial and sustainable results.
The SharingScan (www.sharingscan.com) calculates within a few minutes how this new, circular business model could be beneficial for your organization, and it's free or charge. The SharingScan can also be specified and personalized for specific organizations, sectors or branches. FLOOW2 can of course support you in carrying out a SharingScan.
Contact FLOOW2 for more information and support!
This article is written by or on behalf of a member of the network and any statements, claims and opinions are theirs and not necessarily NCSH's.